PROGRAM DESCRIPTIONS
"ATP" and "3D-AGS" ("ATP Companion")

DOWNLOAD ATP, Scenery Pack, and Manual: From the The-Underdogs website!!!
As of March 2006 you can again get a copy of the ATP w/USA + the"ATP Book" by Martyn Thomas at "PC Flying"!
The "NOTSAM" website by has many new AS/ATP tips and hints!
ATP: "ATP" is a DOS program. ATP was first developed in the early 1990s by SubLogic. Read about the History of Microsoft Flight Simulator and ATP. New copies of ATP have not been made or sold since late 1996 (until recently-see below) due to Sublogic being taken over by Sierra.
ATP has five aircraft and US scenery similar in quality to FS4 with ASD. ATP Revisions D and E (the last) have full ATC real voice sound.
For a more detailed description and screen shots of ATP and it's aircraft-see the ATP page at E-Flight. Also see my 1995 ATP Review here at FSNews.
For tips on installing and running ATP see my ATP/AS Tips pages. Both Airline Simulator (AS1) and "AS2" noted below are based on an enhanced version of the core ATP Graphics engine.
Airline Simulator 2 (AS2) noted below is based on ATP Revision E with the USA East/West scenery!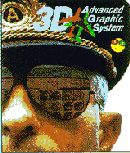 "3D-AGS"
"3D-AGS" OR "ATP COMPANION" "3D-AGS" is an acronym for the "3D-Advanced Graphics System" addon for ATP. This is a video enhancement that adds haze plus other neat visual effects and glass cockpit aircraft panels to some of the original ATP aircraft. Price: $40 or less if you can find it. 3D-AGS (Version 1.0) is no longer being sold as of late 1997. It did come with AS1. Click Here to view some 3D-AGS screen shots. Contact LAGO for 3D-AGS patches.
3D-AGS version 2.0 will come with Airline Simulator 2 (see below).
OTHER RELATED FLIGHT SIMS
"FLIGHT LITE" (FL) OR "FLIGHT LITE PLUS" (FLP) This was a DOS Flight Simulation developed by SubLogic after ATP and sold in 1994 and 1995. It was not successful and is no longer sold. This was the sim that was used as the starting point for SPP development.
SIERRA'S "FLIGHT" This was merely a repackaged version of Flight Lite Plus sold by Sierra in 1996-97 after they took over SubLogic. It had scenery of the entire US (Actually SubLogic's USA East/West Revision B scenery) and limited areas of Canada. It is no longer sold.
---
AIRLINE SIMULATOR
(AS1)

AS is a DOS program based on ATP Revision E with a Windows based User Manual and European+transAtlantic/eastern US scenery. Price: $50 or less if you can find it.
See our AS Description and Screen Shots.
Airline Simulator was released by LAGO in November 1996.
Check out my AS Review.
An AS patch version 1.16 was posted 02/08/97 at LAGO's Website. Check out a copy of the AS 1.16 patch Release Notes!
For an "unofficial" Addendum to the AS paper User's Manual Click Here.
You can order a copy from Services Plus or View a list of other sources.
For tips on how to blend together an existing ATP+3DAGS installation and AS check out Gunnar Graff's ATP+AS Tech Note
If you need help or tips beyond what came with AS or can be found on these pages, please explore Peter de Moor's ATP/AS Europe Site for even more information.
---
AIRLINE SIMULATOR 2 (AS2)
---
SIERRA PRO PILOT 2000; PRO PILOT 99 (SPP99); and PRO PILOT (SPP) Version 1.0x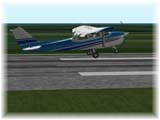 SPP 1.0x, SPP99 and SPP2000 are Windows 95 programs. Sierra announced that its first venture into the "commercial" (non-combat) flight simulation world would be "Sierra Pro Pilot." SPP is the first product resulting from the "merger" of Sierra and SubLogic in late 1996. It is based somewhat on SubLogic's "Flight Lite Plus" but it adds voice ATC.
SPP 1.0 was released December 5, 1997. Patch#1 (1.01) was released Dec 1997; Patch#2 (1.02) -May, 1998; Patch#3 (1.03)-Oct 1998.
SPP99 was released in late October 98. Three patches have been posted for SPP99 as of 4/17/99.
A "European Scenery Update" (10 files-90MB!) for SPP99 was posted at AVSIM on 4/15/99.
SPP2000 has been CANCELLED by Sierra as of September 1999.
For the latest SPP Tips, Patch Links and Info Click Here!
Screen Shots: Check out the SPP screen shots and ordering info at Sierra's Pro Pilot Site.
Prices: Sierra is selling SPP 1.x for $19.95 and PP99 for $49.95 ($20 rebate for current SPP owners).
---
X-PLANE
X-Plane is a Windows 95 or PowerMac program that offers extensive aircraft design features and US (and soon worldwide?) scenery. The latest version (06/2002) is version 7.xx. Price: About $150.
Visit the X-Plane Home Page for all the details, to download the latest demo or connect to tons of other X-Plane websites.
---
FLY
---
747 PRECISION SIMULATOR (PS1)

PS1 is a DOS program from Aerowinx that accurately portrays the 747-400 cockpit. It is written by Hardy Heinlin. The latest version is (as of 09/98) is 1.3.
Also see the Aerowinx PS1 Forum and the PS1 Site Europe
See the Services Plus to purchase PS1 or download updates/patches.
---
FLIGHT UNLIMITED II (FU2) AND FU3

As of May 2000 it appears that Looking Glass was taken over by Electronic Arts.
This is a Windows 95 program that simulates flying in the San Francisco Bay area. Price: $40. The latest patch as of 04/98 is version 1.04. Flight Unlimited 3 was released in late 1999.
Check out the new Flight Unlimited 3 (FU3) website.
Download patches Here. See this FU2 website for a review and the details
Here's another new FU2/SPP Page.
---
FLIGHT GEAR This is an open source, multiplatform flight simulation. Check out the FlightGear website.
---