Airline Simulator
---
Como, Italy, 10 June 1996 -- LAGO is proud to announce that, thanks to an agreement with subLOGIC (now part of Sierra), LAGO is allowed to include parts of the famous Airline Transport Pilot (ATP) simulator in their upcoming products.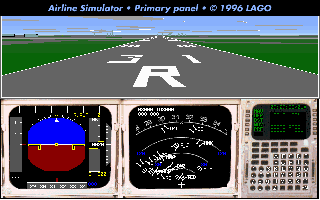 This will result in a new product, called Airline Simulator (AS) that includes:
747-400 airplane with the original subLOGIC flight model;

European Scenery (that can also be used with ATP) with the following primary airports:

      Amsterdam, The Nederlands
      Athens, Greece
      Barcelona, Spain
      Berlin, Germany
      Bruxelles, Belgium
      Copenhagen, Denmark
      Dublin, Ireland
      Edimburgh, Scotland
      Frankfurt, Germany
      Geneva, Switzerland
      Helsinky, Finland
      Lisboa, Portugal
      London Heathrow, UK
      Madrid, Spain
      Manchester, UK
      Milan Linate, Italy
      Munich 2, Germany
      New York, U.S.A.
      Oslo, Norway
      Paris Charles De Gaulle, France
      Reykjavik, Iceland
      Rome Fiumicino, Italy
      Salzburg, Austria
      Stockholm, Sweden
      Wien, Austria
      Zurich, Switzerland

The scenery is completed with more than 300 secondary airports _ with a total of more than 700 runways _ in the European territory, and the overseas airports of Boston (USA) and Toronto (Canada). All the necessary navaids are also included. European Scenery is 100% compatible with ATP Revision E (CD-ROM version) and the EFIS supplied within the 3DAGS's glass cockpit; you will be able to fly for the first time ever in real-time-continuos flights between New York (and the other US/Canada airports) and all the European airports: prepare your coffee mugs!;

A special 747-400 adapted version of the glass cockpit found in the 3D Advanced Graphic System (3DAGS) package, running at 640x400 resolution at 256 colours; the glass cockpit is redesigned with the typical Boeing colors and includes full instrumentation support on the secondary panel for the four engines;

3DAGS world-wide famous 3D drivers (to take full advantage of them you should use the special 3D Glasses sold separately);
Airline Simulator Interactive Manual (ASIM) running under Windows(r) 3.x (also compatible with Windows(r) 95): with ASIM you will be able to easily learn to use the simulator, understand how to operate the glass cockpit, print the approach charts (included only for the primary airports), print a quick reference chart and print parts of the instruction manual you may need to bring into the cockpit. The complete interface of ASIM [is] supplied in English, German, French and, of course, Italian. [The interface] is based on simulator's screen shots: this way anyone becomes instantly familiar with the simulator;

Shareware software to modify the predefined ATC driven flights, add navaids, change ATC voices... and much more;

U.S.A. Sceneries compatible drivers (please note that subLOGIC USA East/West sceneries are NOT included);

The latest version of the shareware VESA driver UNIVBE;
System requirements:
80486DX/33, 4Mb RAM, Super VGA video board with 512Kb VRAM (supports the following video chips: Western Digital, Paradise, Tseng Labs ET-4000, ATI Mach 32, ATI Mach 64, S3, Cirrus Logic 542x/543x, Trident and any VESA 1.2 compatible), MS-DOS 5.0 or later and Windows(r) 3.x or later version, mouse, any Windows compatible printer to print approach charts, lessons, quick reference guide.
Suggested hardware:

Soundblaster or 100% compatible audio board, LAGO 3D glasses, joystick and pedals.
Available: from mid-September 1996.
Format: CD-ROM ONLY.
Price: Lire 99.000 (around 65 US Dollars).
Please note that, in order to release the best possible product, we may change one or more specifications in the final version.
All rights reserved.
©1996 Lago, subLOGIC, Nomissoft, Virtuali, Alberto Sangalli
Microsoft, MS-DOS, Windows® and Windows® 95 are either registered trademarks or trademarks of Microsoft Corporation in the United States and/or other countries.
All trademarks and brands are trademarks or registered trademarks of their respective owners.
For more information please contact:
LAGO
P.O. BOX 293
22100 COMO
ITALY







Phone  +3931 300.174
Fax    +3931 300.214
E-mail 100411.3660@compuserve.com