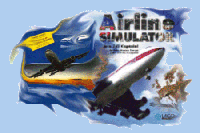 ATP/AS HELP PAGES
Updated: 06/08/97.
---
Note: If you have any tips to share with the ATP/AS community, EMail them to me and I will gladly post them here.
I. GENERAL COMPUTER SYSTEM AND MEMORY OPTIMIZATION TIPS
II. ATP/AS GENERAL TIPS
AS Patches: A new (02/08/97) patch (version 1.16) has been released for AS. You can download it from LAGO's website. To verify that you have version 1.16 of the AS patch: The 1.9MB patch ZIP file contains a file F1SP1.MDF with file size 18,963 bytes. If the file is not this size then the ZIP file you have is for version 1.15 that was posted 2/4/97 and replaced 2/8/97. The label at LAGO's website is outdated and still says version 1.15. Note: An earlier patch to AS that was supposed to upgrade it to version 1.1 was erroneously released 12/24/96 by LAGO and even uploaded to FTP.IUP.EDU-do not use this earlier patch! This new patch upgrades the original release version of AS (1.0) to version 1.15.
Classic ATP/AS tip: If your joystick will not work with ATP or AS: You must always press ALT+J upon exiting the startup demo to enable it! They were supposed to fix this three years ago!
To learn how to FLY an ATP or AS single or career flight assignment-Click Here.
How to fly the 737 in ATP By a real pilot.
For an extensive HELP FILE of the best original ATP tips (Some apply to even AS) Click Here
Many files to update, fix or supplement ATP can be found in the Flight-Sim/ATP Directory at FTP.IUP.EDU.
Peter de Moor's ATP/AS Europe Site now has lots of new AS tips to go with his already extensive ATP resources.
Newer Tips:
Memory Requirements for ATP, 3DAGS, and AS: Normal ATP needs 512KB or more or free conventional memory. ATP with 3DAGS or AS should have at least 590KB of free DOS conventional memory upon startup. You'll need up to 617KB free to get the second and map views working with AS.
Still Tight on Free DOS Memory after trying the above tips? You may gain about 15KB more free conventional memory try running ATP by loading it high with either LH or LOADHIGH ATP<Enter>.
Soundcard Notes: ATP Revisions D and E have ATC voice sound capability and require a line in all capital letters in your autoexec.bat file that says: SET BLASTER=A220 I5 D1 T? (?=1,2 3 4,5 or 6-Or whatever your SBlaster card or compatible says for settings of IO port, interrupt, DMA channel, etc). You must have this line even if your have another sound card that emulates a SoundBlaster. I have a Pro Audio Spectrum 16 and it requires this line too. At least 512KB of Expanded Memory (EMS) is also required for ATC voice sound. Note: I have received some reports that users with newer computers and "Ensonique" sound cards cannot get the ATP ATC voices to work. Some have said that "Ensonique" sound cards are not truly SoundBlaster compatible. Something about the ADCPM function does not match a true SoundBlaster.
How do I tell the version of ATP? Look at the color of the original ATP box or the date/size of file ATP.EXE.

"Early" versions (No ATC voices) were sold in a red colored box. The ATP.EXE has a date earlier than 11/05/92.
Revision D was sold in a blue colored box and has ATP.EXE file specs of either (Original "D") date 11/05/92 size 121,201 bytes (Was erroneously released with a built-in frame counter if you hit "J") OR a date of 11/16/92 and files size 121,185 bytes-this was Revision "D1" without the frame counter.
Revision E sold on CDROM has an ATP.EXE file date of 10/93 and a file size of 121,469 bytes.

Lost your color VGA video after running ATP or AS? Try running "MODE co80" from the DOS prompt and you may get it back!!
Video Problems running ATP on a fast computer? Try installing CORREGA.ZIP from the FTP.IUP.EDU /flight-sim/atp/ directory. (Note: This location at FTP.IUP.EDU contains many ATP correction and utilities files.)
You get an error message on ATP or AS startup that says "Can't find Foreign.atp." You may need to remove a line in your autoexec.bat that says: SET ATP_DIR=C:\ATP (or whatever your real ATP or AS directory is). Reboot and it should work. Try it with and without this line.
Problems running the Flight Assignment program? This is a program (FA.EXE) that came bundled with the SubLogic USA East/West sceneries. Try removing the SET ATP_DIR line in your autoexec.bat and reboot.
You get an error when flying ATP, usually popping up a second or map view that says "Can't open file ???.SP1" or whatever. You are low on free conventional DOS memory-See the memory tips noted above to free up more conventional (Below 640KB of RAM) DOS memory!!
ATP Scenery: See the recently submitted ATP Scenery Notes From Gunnar Graff of Norway. His notes contains a list of various ATP/Sublogic scenery, some scenery tips, and a little history.
III. ATP/AS OPERATIONAL TIPS
ATP won't grant you aircraft "type Certifications after flying terrific flights? Because of a bug in ATP, some will notice that, in flying the progression of 96 career assignments, ATP may not grant you your "Type Certificate" for, say, the 767 aircraft in spite of great scores. The solution I found was to download a "Career Assignment Editor" and edit the error out of my career file. The file can be found as CREDIT.ZIP at Peter de Moor's website or ftp.iup.edu.
ATP Career Assignment Notes: To view these notes from various sources Click Here.
ATP/AS Keyboard Commands: I hope to soon add a page of the common ATP keyboard commands.
IV. AS COMPATIBILTY TIPS So far, it looks like we may be able to mix and match scenery and aircraft between ATP and AS if we are careful. Listed below are a few possible combinations. Exact details to follow in the near future.
To fly the AS European scenery with ATP or ATP+3DAGS: Copy the AS F1.* files to EURO.* (Don't forget the F1.SMS file) and copy them into your applicable \ATP, \SCENERY or \SMS directories. You may also need to copy (save the old ones) the AS versions of ATP3D.DRV (51846 bytes) and LATLON.BIN (546 bytes) into your ATP directory.
To fly the default original ATP US scenery with AS: For the default ATP US scenery the F1.* trick works too. Copy and rename the ATP F1.* files to USA.* and copy them where needed in AS.
Copy the other four ATP+3DAGS aircraft (Not the 747 of course) into AS: The original AS release comes with a converter called AS2ATP intended to accomplish this task. . In lieu of that-try Gunnar Graff's Technote on combining ATP+3DAGS with AS.
OTHER SOURCES OF HELP If none of the above notes help, go to our ATP/AS Support Page or Email LAGO.
---