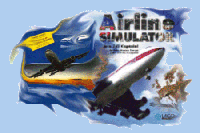 ATP and AIRLINE SIMULATOR SUPPORT PAGE
---
NEED HELP? HAVE YOU SEEN OUR ATP/AS Tips Page?
ATP PRODUCT SUPPORT IS NO LONGER AVAILABLE FROM SUBLOGIC:
ATP really requires that you have the flight manual and maps for full enjoyment, especially if you want to fly the 96 graded career assignments. If you bought the program second hand without these items we just lost our only source for replacements-SubLogic itself. SubLogic was taken over or absorbed by Sierra in late 1995. Perhaps someone will come along to fill the void in providing replacement manuals and maps for the "original" ATP.

THERE IS NO SALES OR SUPPORT FOR ANY OF SUBLOGIC'S FORMER PRODUCTS BY SIERRA:
Sierra support has informed me that they will not be providing any support for Sublogic's former product line-especially ATP. They are supporting FLIGHT now and will be supporting Sierra "Pro Pilot" after it is released.

WHAT TO DO IF YOU NEED ATP/AS OR OTHER HELP: Post your ATP, AS, 3DAGS, USA, Flight Lite or even Sierra FLIGHT related problem or questions in the rec.aviation.simulators newsgroup on the Internet or at the SIMGAMES or FSFORUM at Compuserve to get help or answers.
---