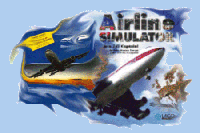 ATP/AS SHAREWARE ON THE INTERNET There are many ATP sceneries and utilities available on the internet. ATP files in the Compuserve FSFORUM and SIMGAMES forums are, unfortunately, inaccessible from the internet. Examples of available ATP shareware/freeware are:
Sceneries: Hong Kong, Dusseldorf, Barcelona, and other localized areas converted from FS4 ASD scenery using Enrico Schiratti's ASD2ATP scenery converter.
Utilities: ATPUTIL version 4.xx, the fine toolkit for ATP, and many other patches, tools and other useful utilities.
Other: More prebuilt career assignments for the USA scenery.
No-there are still no new shareware aircraft anywhere (yet) --Simon is working on it!
Here are the best sites I have found to date:
---